For businesses that depend on website traffic for customer acquisition, ranking on page 1 of Google is a must. Just having a good looking website isn't enough. First you need to drive traffic to the website. Then the website needs to have compelling content to convert a visitor into a customer.
What is SEO (Search Engine Optimization)?
SEO is a set of strategies and tactics used to obtain a high-ranking placement in the search results page of a search engine thus increasing the amount of visitors to a website.
Why is SEO an important customer acquisition strategy?
1)Traffic
Source:  Philip Petrescu, Caphyon
The above graph illustrates the percentage of CTR(Click-Through-Rate) i.e the number of searchers that click through to a website or in other words the number of people who click on a site after seeing the search results versus the position number in the search engine results page (SERP) i.e. where the website falls in the list of websites that emerge from a search on a particular topic.
Position 1

get about

30%+

of the clicks,

Position 2

about

14%

,

Position 3

about

10%

,

Position 4

about

7%

,

Position 5

about

5%

and

then a significant drop in CTR.
This study illustrates the importance of ranking on page one to garner significant traffic to your site.
2) Trust
Google is getting better at weeding out relevant websites from the irrelevant or even scamming sites. This would mean that higher ranking conveys trust to your prospective customers.
3) Inexpensive way to acquire customers
Depending on the competition in your industry, the effects of doing SEO are long lasting and relatively inexpensive as you are not paying per unit as you would with pay per click ads. However, it does takes planing and time to see the results. The field of SEO is always changing, Google is constantly tweaking its algorithm and SEO experts have to adapt.
Some of the major search ranking factors that we look at during the SEO audit process
The level of competition

On Page Optimization Factor

Using targeted keywords in your headlines, and content

URL structure

Using meta tags

Off Page Optimization Factors

Number of citations

Reviews

Number of reputable sites linking to your site

Domain Optimization

Loading speed of your webpages

Keywords in your domain name

Optimized URLS

No Duplicate content

Making sure you have a sitemap so that search engines can easily crawl and index your site
A sample of what the results of applying the above process looks like.
The images below illustrate the results of doing search engine optimization for a CG Digital Marketing client offering doula and Hypnobirthing services in the suburbs of Chicago.
BEFORE (Not showing up on Page 1) – [Click on Image to see larger version]
AFTER (Page 1 ranking for keywords 'doula' and 'Hynobirthing') in her city and surrounding cities as well) – [Click on Image to see larger version]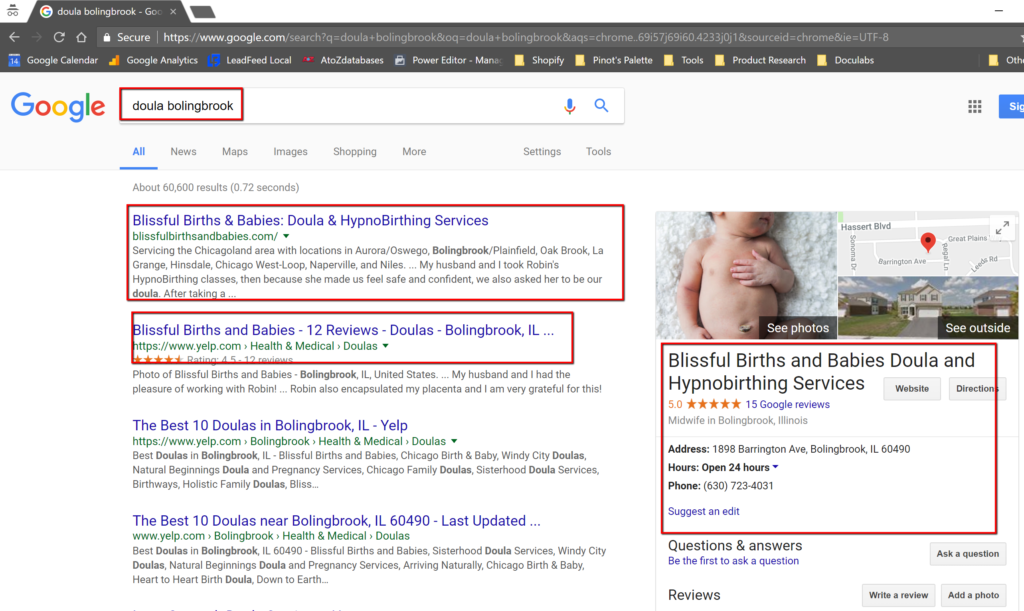 Colin Gonsalves MBA, OMCP is the owner of CG Digital Marketing. He is an experienced digital marketing strategist helping businesses grow through proven client acquisition and retention strategies.
About us and this blog
We are a digital marketing company with a focus on helping our customers achieve great results across several key areas.
Schedule a Consultation
We offer professional SEO services that help websites increase their organic search score drastically in order to compete for the highest rankings even when it comes to highly competitive keywords.
Subscribe to our newsletter!
There is no form with title: "SEOWP: MailChimp Subscribe Form – Vertical". Select a new form title if you rename it.
Need help with your Digital Marketing?
Facebook can be an indispensable tool when it comes to increasing awareness…